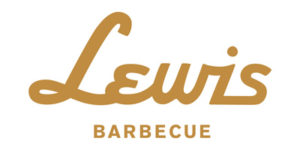 Lewis BBQ
464 North Nassau Street
Charleston, SC 29403
ABOUT LEWIS BBQ
A master of barbecue, John Lewis never cuts corners, unless you're talking about burnt ends of course. The pitmaster's cult-like following can be attributed to his unerring dedication to barbecue – from welding his own custom-designed smokers to waking up at 4 a.m. to tend to the fire, he takes his meat seriously. Barbecue enthusiasts have flocked to his pit for years, waiting in long lines to get a taste of his expertly smoked pork spareribs, beef ribs, "Texas hot guts" sausage, oxtail and his legendary beef brisket.
Growing up in El Paso, TX, John moved to Austin at 18 to start his culinary career. Around this time, John's parents gave him a New Braunfels smoker for his birthday, and he started dabbling in Austin's longstanding tradition of the backyard barbecue. He was soon getting creative with both his smokers and his meats, taking liberties with the design and construction to try and yield a better result. After a stint in Denver honing his craft in the competition barbecue circuit, John returned to Austin in 2010 to help his friend Aaron Franklin as he opened Franklin Barbecue. While there, John pioneered the flavor profile that helped put Austin barbecue on the map.
John partnered with LeAnn Mueller to open the much-beloved La Barbecue in Austin in 2012. He quickly became the rising star of Austin's barbecue scene and in just a few short months after opening, La Barbecue made Texas Monthly's "Top 50 List" and was voted the "Best BBQ in Austin" by the Austin American Statesman.
In March 2015, John packed up his smokers and moved to Charleston to introduce the Holy City to the great world of Texas barbecue. He and his barbecrew opened Lewis Barbecue in June 2016.