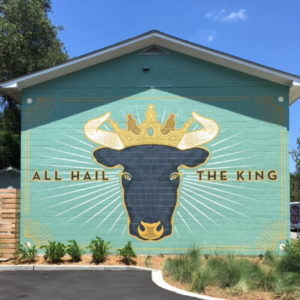 The emphasis on hand painted signage and detailing in the building and arts community is being reinvested on several levels. On a local scale you can find the trend for throwback typography and signage amongst some of the city's most desirable restaurants.
One of the more popular has been the "All Hail The King" mural at Lewis Barbeque designed by Scott Harrell at Limelight Custom Sign Company.
Another local favorite, down the street from Lewis BBQ is Edmund's Oast. The restaurant is known for its eclectic New American fare and extensive beer selections. But among all the superb food and spirits, are some interior and exterior features worth notice. Charleston's Stitch Design Company, created the restaurant's signage with a modern twist on old world designs.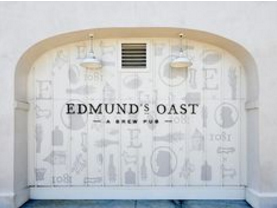 The interior at Charleston's, local restaurant, Harold's Cabin, has a unique collection of art from Becca Barnet's stair to ceiling free-handed Jackalope, Stephen Elliott Webb's abstract painting displayed in the main floor's dining room and the simplistic signage stating "Harolds Cabin" on the buildings exterior facing Congress and Presidents Streets.