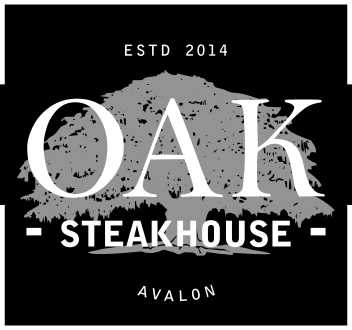 Oak Steakhouse
950 Third Street
Alpharetta, GA 30009
ABOUT OAK STEAKHOUSE
Owned and operated by The Indigo Road restaurant group, Oak Steakhouse Atlanta presents a fresh take on the classic steakhouse. Located in Alpharetta's new premier community, Avalon, Oak Atlanta offers inspired contemporary dishes alongside steakhouse classics in a modern and refined environment.
Executive chef Michael Perez's menu celebrates Georgian ingredients from surrounding purveyors, farmers and fisherman. Oak Steakhouse features traditional Prime Certified Angus® Beef steak cuts along with contemporary small plates, salads, and entrees. House favorites include housemade ricotta gnudi, a seasonal vegetable plate, daily fish selection, Grassroots Farms roasted half-chicken, grilled swordfish steak and a whole fried lobster.
Oak's wine list highlights California Cabernet and Old World reds including a selection of Italian and Spanish wines, as well as a selection of artisan domestic wines. The cocktail program pays tribute to classic cocktail recipes, while enhancing the flavors with creative, modern ingredients. Oak offers a curated selections of beers, available on tap and in bottles, from local breweries.